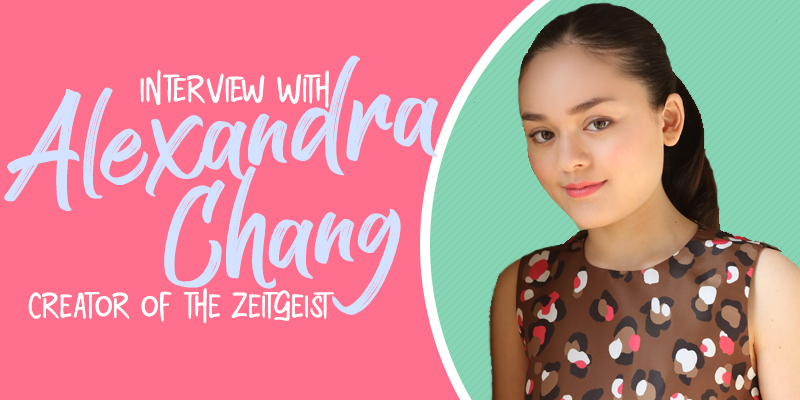 GIRL POWER: Interview With Teen Entrepreneur Alexandra Chang of The Zeitgeist
If you're not already familiar with Alexandra Chang, it's time to get acquainted. Alexandra loves spending time with her sisters and writing in her free time. She's a 17 year old girl in her junior year of high school and she's about to take her ACTs. What makes Alexandra stand out from your average teenage girl? She's been blogging since she was 14 and she recently launched her very own fashion line called The Zeitgeist!
Her clothing line is made up of tees, tanks, sweatshirts, and headbands – all made with girls in mind. Each item in her line is #OOTD worthy, sporting inspirational/fun quotes and images, the likes of which have been seen on celebs, dancers, bloggers, and on tons of girls all over the world.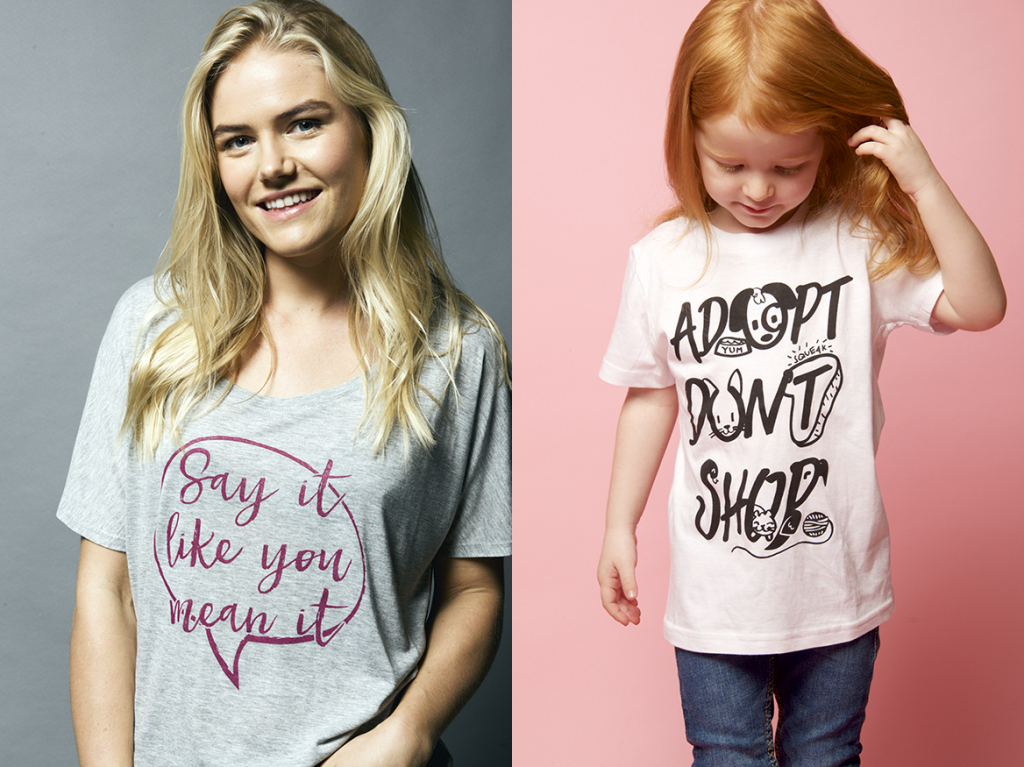 Alexandra's entrepreneurial spirit isn't all business, though. She's also dedicated to helping others. Alexandra has designed tees alongside charities and foundations with a good cause. A portion of the proceeds of THE EMMA tee (left) are donated to the United Nations Girl Up foundation and 50% of THE KEN tee (right) proceeds are donated to The Peninsula Humane Society & SPA to help animals in need.
Alexandra and The Zeitgeist just ooze girl power, which is why we are so excited that she's our first interview for the new Girl Power feature on YAYOMG! Every month (and hopefully even more often in the future) we'll be highlighting amazing girls, women, and girl-focused happenings on our blog. Enough about us, though.
We were lucky enough to chat with Alexandra about her entrepreneurial spirit, what she does for fun, and the importance of friendship.
Interview with Alexandra Chang of The Zeitgeist:
YAYOMG!: Have you always been a fashion lover? What inspired you to start your own line?
Alexandra Chang: I have always been a fashion lover. To me, fashion is an art form and a way to express myself. From the age of four I always wanted to "make the most" of my wardrobe. There was often a lot going on and not all of it was good (I had a poncho and clogs phase!) but my style has always had a great sense of fun. Hopefully it has become a bit more refined from where I started out, but I never want to lose that sense of fun and whimsy.
YAYOMG!: Has being so young presented any struggles or challenges for you in starting your business? If so, how did you overcome them?
AC: Being so young when I started my business was definitely a steep learning curve, but with each step, I gained confidence. I initially thought I would need help putting together my website and I called around to companies, but nobody took me seriously because I was a kid, and that was the best thing that ever happened to me. I was intimidated by technology, but being forced to figure out how to build my own website was critical because what was once a hurdle for me has become a great strength. When I decided to open a retail store online, I knew immediately which platform I wanted to use and how to set it up. I'm comfortable with all forms of social media now, which nobody would have predicted. I was seriously the last one of all my friends to get on Instagram and Snapchat. Now, I see what an amazing creative outlet and inspiration it can be, and I love it!
For the most part, I think being young has worked to my advantage. I've had so many people offer their advice and help, for which I am deeply grateful. I think my age has also been really helpful when I am reaching out for interviews for my blog. I've definitely contacted some people who are notoriously hard to get interviews with, and they have said yes. I think part of the reason is nobody really wants to be that person who shoots a kid down. I certainly wouldn't want to be! I stop at every lemonade stand and Girl Scout cookie sale and congratulate the girls for being out there. They are our future female entrepreneurs!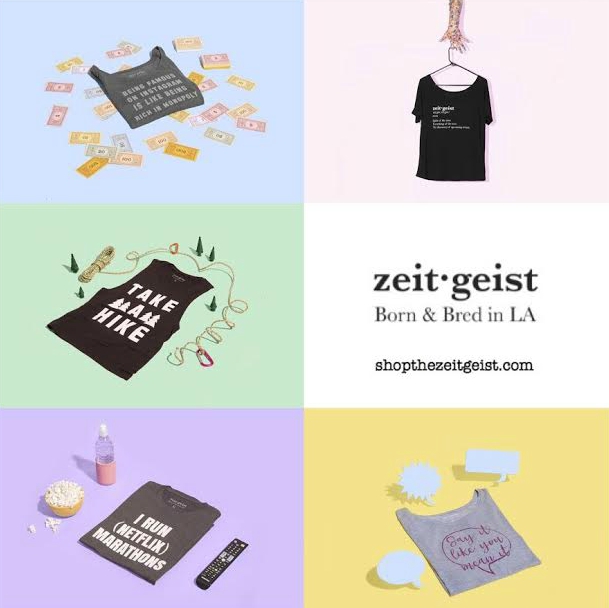 YAYOMG!: What inspires you to dream up new ideas for your products?
AC: Everything and everyone around me! I'm always inspired by current events, pop culture, and causes I care deeply about. "The Ken Tee," for example, was designed to benefit the Peninsula Humane Society, an amazing shelter that houses animals of all types. I've also collaborated with Children's Action Network for a holiday collection, which was an incredible experience.
YAYOMG!: What kind of vision do you have for both The Zeitgeist and for yourself in the future?
AC: I'm still in my junior year of high school, so in the immediate future, I'm taking the ACT, which is crazy! Further down the line, though, I plan to go to college, and I want to pursue my interests in writing, journalism, media, film, and theater. I hope to expand The Zeitgeist into areas beyond clothing and online content. I'm excited to see what comes next!
YAYOMG!: How do you balance school with running your own fashion line?
AC: Balance is tricky and I certainly haven't perfected it, but I have learned how to prioritize well. For example, I'm using my lunch period at school to answer these questions because I know the rest of today is going to be jam packed with classes and studying for midterms. However, when I am feeling overwhelmed I always go back to my core belief that if you love something enough, you are willing to work harder than anyone else and make certain sacrifices. The Zeitgeist is my passion, and I'm willing to make the sacrifices that come with running a business while in school.
Tina Fey once said, "Work so hard that even Oprah questions your schedule." That always makes me smile and makes me remember why I do it all. I do it because it makes me feel happy, excited, and fulfilled, and I hope my brand does the same for others.
YAYOMG!: When you're not running your business, what do you like to do to relax/have fun?
AC: I love to hang out with my three younger sisters and four dogs. I also love writing to relax, and I particularly love creating short comedic scenes and poems. I recently wrote one and submitted it to a monologue competition just for fun.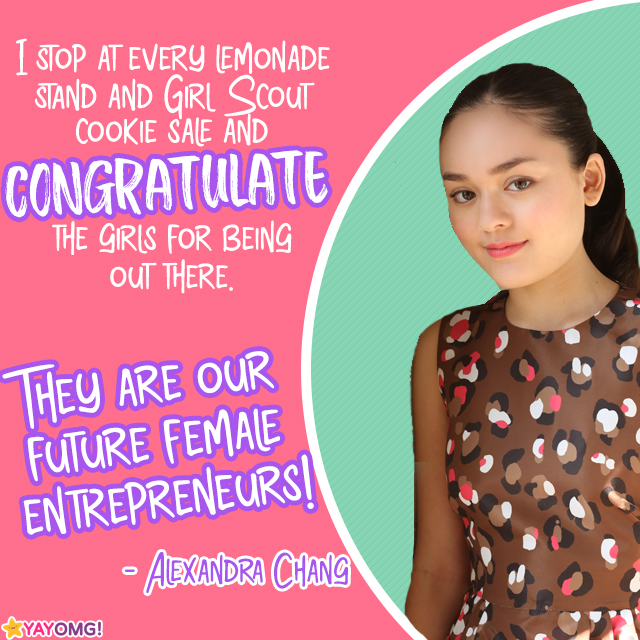 YAYOMG!: Do you have a signature look/style you like to rock?
AC: I always plan my outfits around accessories, particularly jewelry and bags. Any outfit teamed with a statement purse is a go-to look for me. I generally gravitate toward smaller bags, and I tend to wear them with boxier, looser clothing to mix up proportions.
YAYOMG!: We read on your website bio that you're still friends with the people you met in preschool. Can you share a little on friendship and what having such a long-lasting group of besties means to you?
AC: I feel very lucky to have maintained such close friendships with people I met when I was merely three years old. I moved to Los Angeles from San Francisco when I was six, so most of my pre-school friends still live in Northern California. However, we all talk to each other often, and I see a lot of them various times throughout the year. My definition of a true friend is someone who makes you happy and supports you, as opposed to bringing you down. All of my friends were incredibly supportive when I launched The Zeitgeist. Many of them posted about it on social media to help me gain readership.
Friendship is something that is different for everyone, but one commonality is that element of supporting and being genuinely happy for one another.
YAYOMG!: Do you have any advice for young girls looking to start their own lines or other entrepreneurial projects?
AC: Surround yourself with other entrepreneurs, and reach out to people who inspire you. Receiving advice from people who have done it before is incredibly valuable. Finally, stop talking about your idea, and just go for it! I hope The Zeitgeist can be a small source of inspiration for young girls to take a risk on something they're passionate and excited about.
Inspired by Alexandra's go-getter attitude? You can keep up with what she's up to and shop her line here.
It's time to get out there and make your dreams come true, no matter how big! Here's 8 Fierce Ways to Embrace Your Inner Girl Power to get you started!