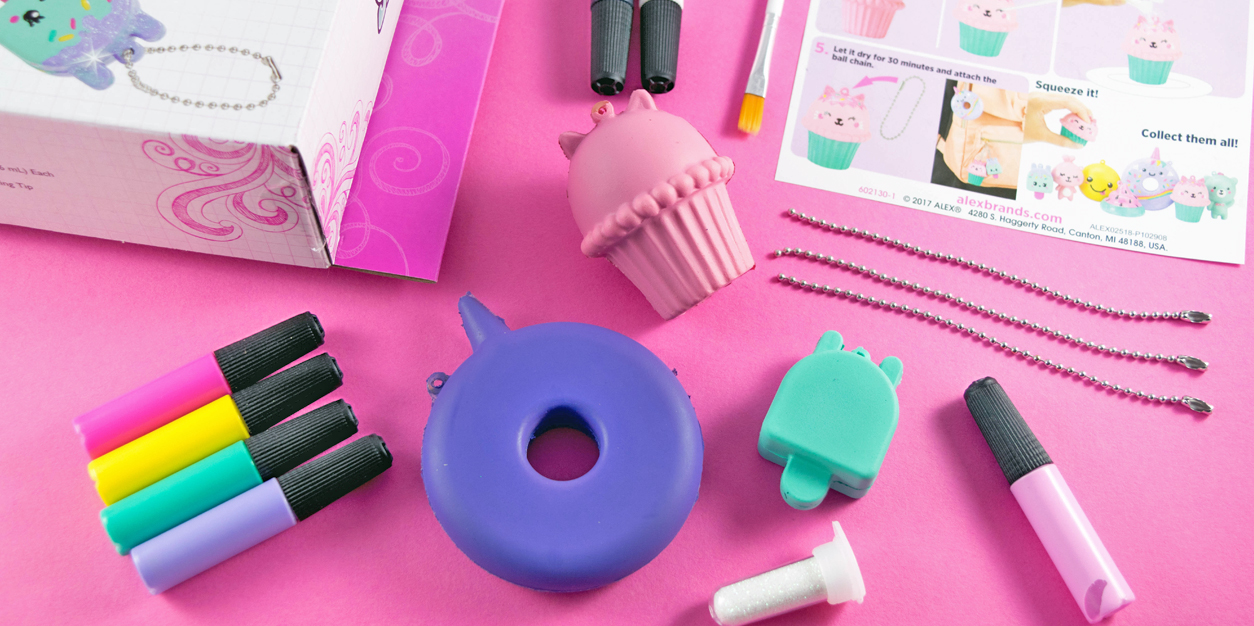 Create Your Own Adorably Squishy Keychains with Alex DIY Color Me Sqooshies
Note: We received the Color Me Sqooshies kit for free from Alex Brands in exchange for a fair and honest review. All opinions are our own; we were under no obligation to give a positive review.
When headed back to school, one of the first things on everyone's mind aside from back to school shopping and if you'll get to sit with your bestie at lunch tends to be how to stand out and make the school year great. From putting together the perfect first day outfit to glamming up your locker with lots of cute accessories, there are lots of ways to make your personality shine through on even the hardest day of classes. That's why we think you'll love the new ALEX DIY Color Me Sqooshies kits! Each kit has a different theme – Sweets, Emoji, and Buddies and puts YOU in charge of creating your own squishable accessory.
The Sweets set allows you to customize a popsicle, a donut, and a cupcake. The Buddy set has a bear and bunny and the Emoji set of Color Me Sqooshies has a smiley face and a poop! Alex Brands was kind enough to send us the Color Me Squooshies Sweets kit, keep on reading to see what we created and how you can bring your creation to life!
ALEX DIY Color Me Sqooshies – Sweets: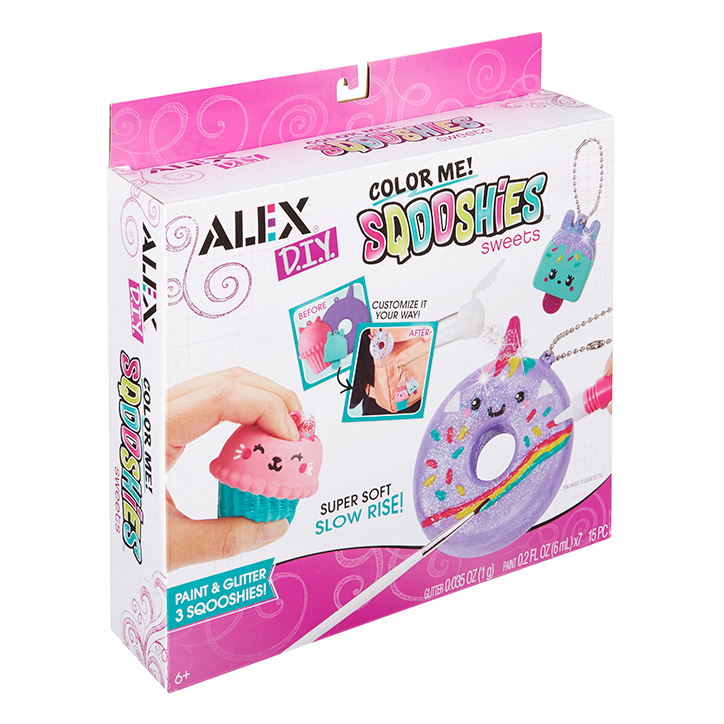 First, let's start by taking a look at everything that comes in the box!
You get:
3 Sweet Shaped Sqooshies – Popsicle, Donut, and Cupcake
7 Paint Tubes
Glitter
Paint Brush
3 Chains
Instruction Sheet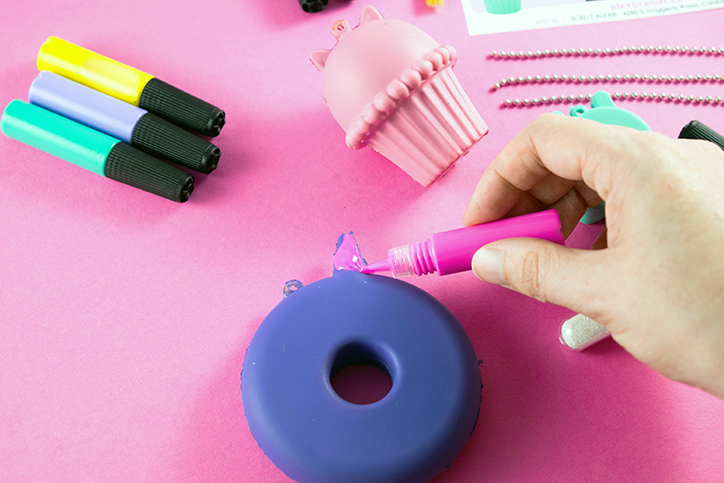 Get Started:
Decide which Squooshy you want to paint first and come up with a design. You can go at it freehand or sketch something out on paper first so you have something to reference. We recommend painting on little details and accents rather than painting the entire Squooshy. It will dry much faster this way. Plus, we found that larger areas tended to crack and rub away after lots of squishing. If you're only using yours as a keychain and don't plan on squeezing it too much, then you shouldn't have any worries. Paint your heart out!
Get Creative:
Don't limit yourself to the supplies that are included with the kit. If you have other craft materials around, definitely get creative with it! We're not super in control with a paintbrush, so we tried some paint markers we had from a previous project, and they worked great! They give you a little more control while still allowing you to get good coverage like paint does. They also dry super quick. We think googly eyes would look super cute, too!
While the theme of the kit is sweets, you definitely don't have to stay sweet with your creations. Create anything you can dream up, from a monster cupcake to a dragon donut, and more!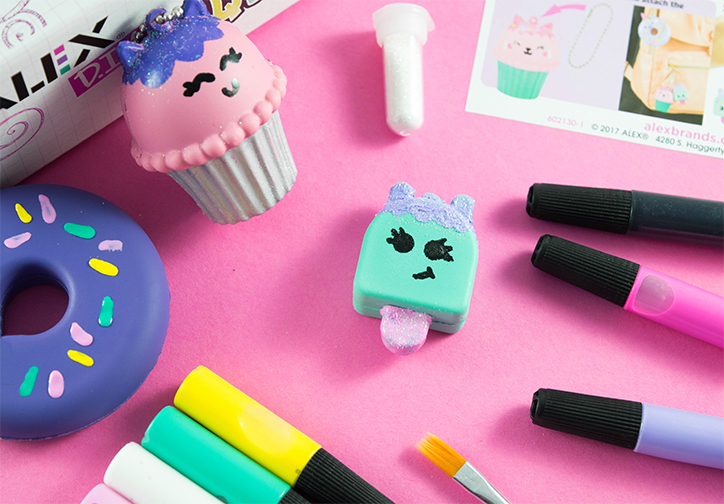 Add Glitter:
What's a DIY project without GLITTER? While the paint is still wet, sprinkle some glitter on your Squooshy. Always remember to lay out a tablecloth or newspaper before painting, and definitely before getting your glitter on! The instructions suggest using a plate to catch the excess glitter, which is a great idea because then you can simply scoop it back up into the tube and reuse it.
Let it Dry:
Once you've created a masterpiece, it's time to let it dry. The instructions recommend 30 minutes, but if you painted a lot, you might want to give it a little longer just in case. Since this is something you'll be squeezing and squishing, you don't want to mess up your paint job. We let ours dry overnight.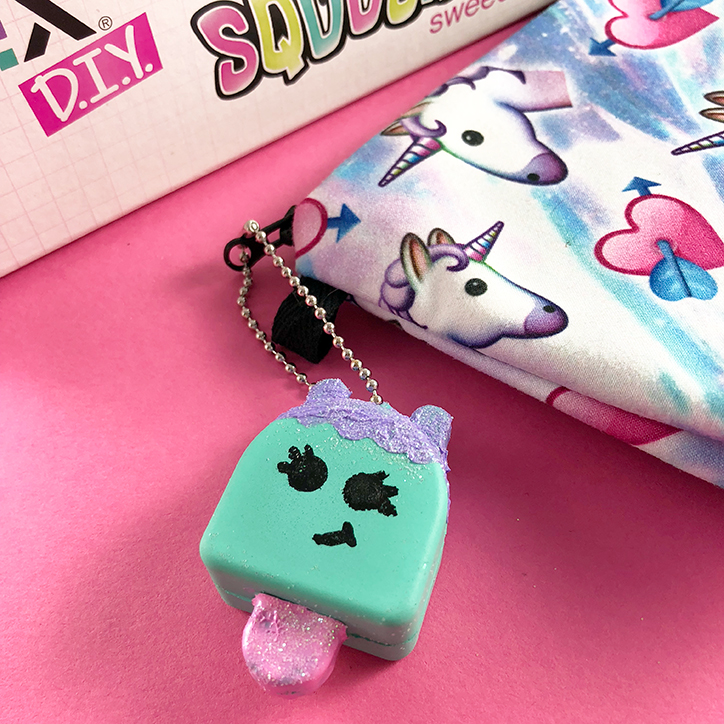 Clip it On:
Once everything is dry, give it a squish and watch the slow rise magic in action! Then clip your new one of a kind Sqooshy to your backpack, purse, or pencil case to kick your school year up a notch! Rock the halls with super cute, totally unique creations that double as stress relievers. If you're feeling generous, gift one to a friend to help make their school year great too! Don't have any classes with your BFFs this year? Invite them over for snacks and crafts and design your Sqooshies together!
We LOVED creating our own Sqooshies and can't wait to clip them on all our stuff to take with us on the go. We thought this kit was a lot of fun! If you want to pick up an ALEX DIY Color Me Sqooshies kit of your own, you can head to the Alex Brands website or your favorite place to buy toys. Are bath bombs more your style? We'll be trying out the Alex Spa DIY Bath Bombs kit soon, so stay tuned!
Looking for even more fun craft projects? We think you'll love the Ultimate Unicorn Craft Kit!