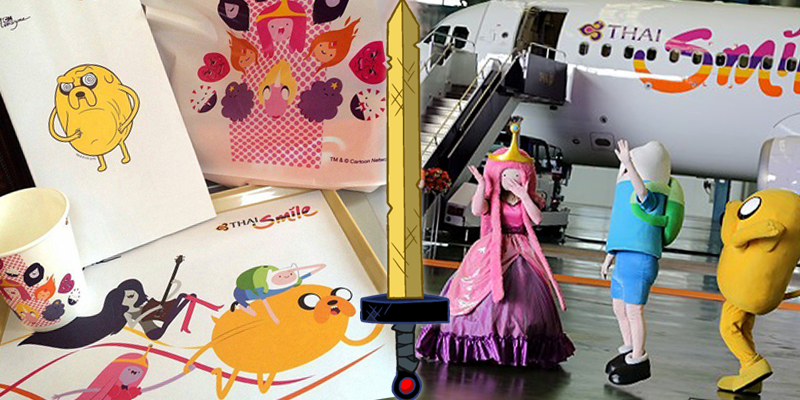 Adventure Time Airplane
OMG you guys! An Adventure Time airplane EXISTS. It's a real thing that you can really fly on, and it's AWESOME.
Okay, well, you can really fly on it if you happen to be taking Thai Smile airlines, which is probably unlikely unless you're visiting Thailand anytime soon. It's still really cool to look at though. And dream about. And imagine yourself soaring through the air in.



The Adventure Time airplane has Finn, Jake, Marceline, and Princess Bubblegum on the side of it, making it easy to spot in the sky when you're looking up at the clouds. The inside of the plane is AT themed as well – the overhead bins have Finn and Jake on them, and there's AT themed headrests and even barf bags! It'd almost be worth the plane sickness to barf into one of those bad boys!
So, why is there an Adventure Time airplane anyway? It's because Cartoon Network opened a new water park called "Cartoon Network Amazone" in Thailand. The park is filled with water slides, high speed water coasters, and other awesome Cartoon Network themed rides and attractions. Your favorite characters are there too! You can find Finn and Jake in the Adventure Zone, Ben10 in the Omni Zone, and you can even find the Power Puff Girls in the Cartoonival area!