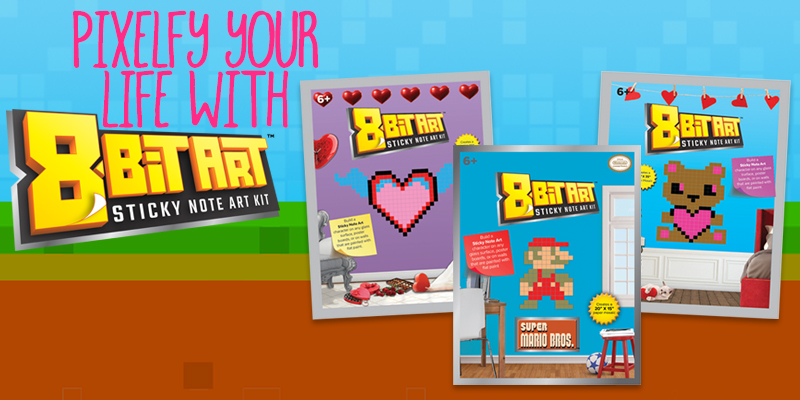 These 8-Bit Art Kits Will Help You Transform Your Room into a Video Game
Have you ever wished your life was more like a video game? Well, thanks to 8-Bit Art, you can turn literally any flat surface into a pixelated wonderland! If you're familiar with the sticky note art trend, you've probably seen pixel art inspired Post-It creations all around your city or flooding your Insta feed. Even though they may look simple, planning out a sticky note art piece is pretty time consuming. You have to make sure you have all the right colors, plan out your design pixel by pixel, measure your area, and then stick them up one by one. And that's just if everything goes smoothly. Not everyone has the time to do all that, but 8-Bit Art kits take out all the hard parts.
We went hands on with the kits to see if they were as easy to create as it seems. Thanks to the amazing folks at Ultimate Source for sending them to us!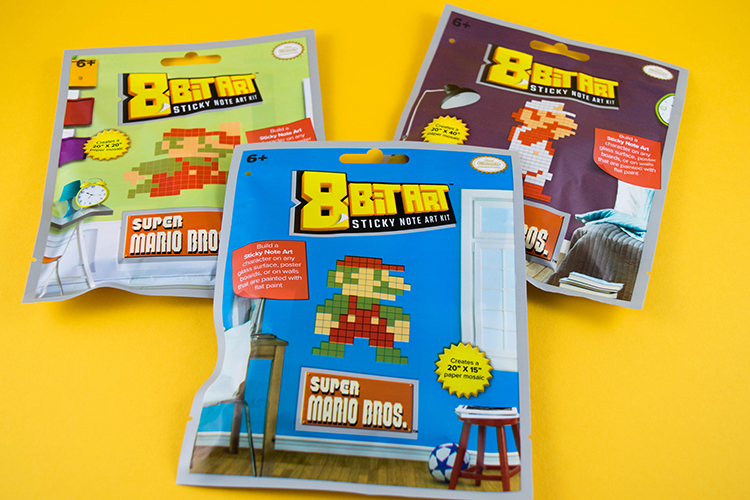 Even though they're pretty new, 8-Bit Art has a pretty large variety of kits available. You can snag cute hearts and teddy bears for Valentine's Day (or just to cute-up your space), spooky ghosts and zombies for Halloween (or if you just love paranormal stuff), and festive Christmas designs. Our favorite, though, are the Nintendo kits!
Creating video game characters out of pixel-sized sticky notes is the perfect match, and we were super excited to be able to bring Super Mario to life right on our office wall. 8-Bit Art teamed up with Nintendo for a variety of retro Mario, Luigi, and Question Block designs. We've got our fingers crossed for some Legend of Zelda designs in the future. We'd also love to be able to create a pixelated rainbow on our wall, too! But enough of our dreaming, here's how it all works: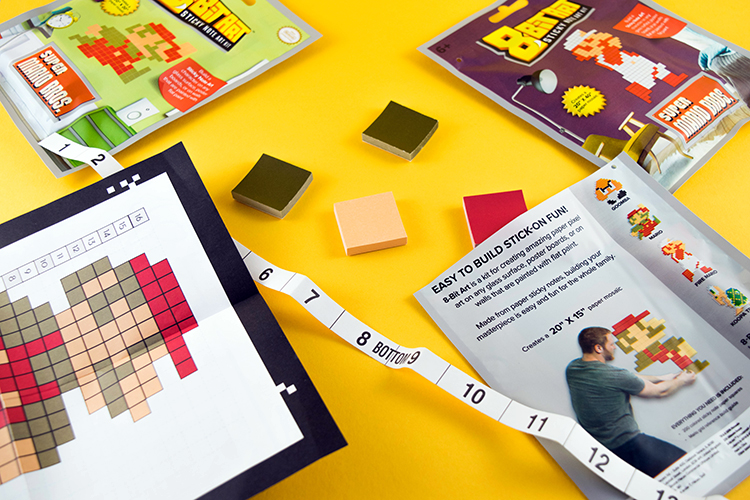 Everything you need to build the design on the package can be found inside the 8-Bit Art pouch. You'll receive:
– An instruction sheet that shows you exactly how to lay out your design
– More than enough sticky notes to complete your project in all the colors you'll need
– A sticky ruler to help guide you
8-Bit Art works best on dry, flat surfaces. Windows work great and are a fun way to display your design to the outside world. You can also make your design on poster board so you can frame it or even stick them to your bedroom walls. (Walls painted with a flat paint work best.) They peel easily off of most surfaces, which is great because you won't leave a mess.
We created ours on some blue craft paper to make our design pop for this post – but we don't recommend doing that IRL. The ruler got stuck to the paper and we couldn't peel it off without ripping it. We didn't have that problem with walls or windows though, so don't worry. Just remember that the ruler is a sticker, so it's much stickier than a sticky note. Tip: Worried about your walls? Leave the sticky backing on the ruler and just tape it into place instead.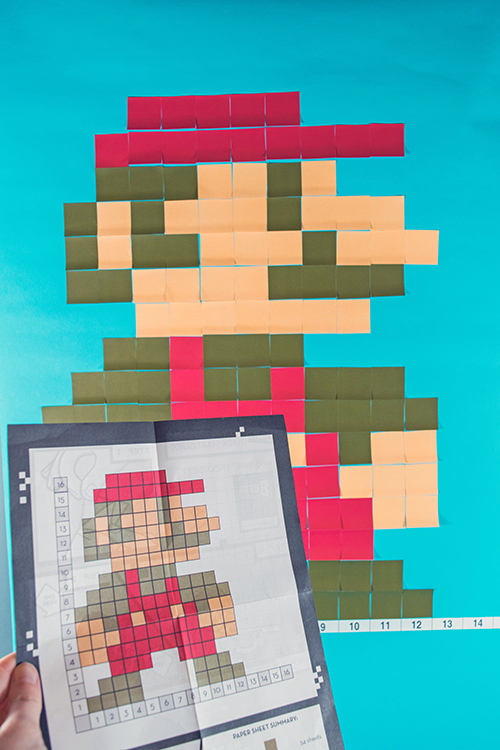 We built the Mario kit and it took about 15-20 minutes, and it was super easy to do. The instructions are really easy to understand, just match up the numbers on the instructions to the placement on the ruler, and stick away. It's super easy to fix any mistakes too – you just peel your sticky notes off and reposition them! That's the joy of using sticky notes to create art – there's no mess and they're not permanent like paint or markers. The kits even come with a little more paper than you actual need, just in case you rip one or crumple them somehow.

8-Bit Art kits are extremely fun and we can definitely see ourselves buying more of these in the future. We love that it's a unique craft that's easy enough for any gamer or craft lover to get their DIY on. Ready to pixelfy your life? You can get your hands on 8-Bit Art at select Target, Game Stop, and Bed, Bath, and Beyond stores. Current kits cost $4.99 each, so it's easy to collect and create them all! Want to see the full video of our build
Itching for more DIY project ideas? Try one of these!
Note: We received this product for free from Ultimate Source in exchange for a fair and honest review. We were under no obligation to write a positive review.