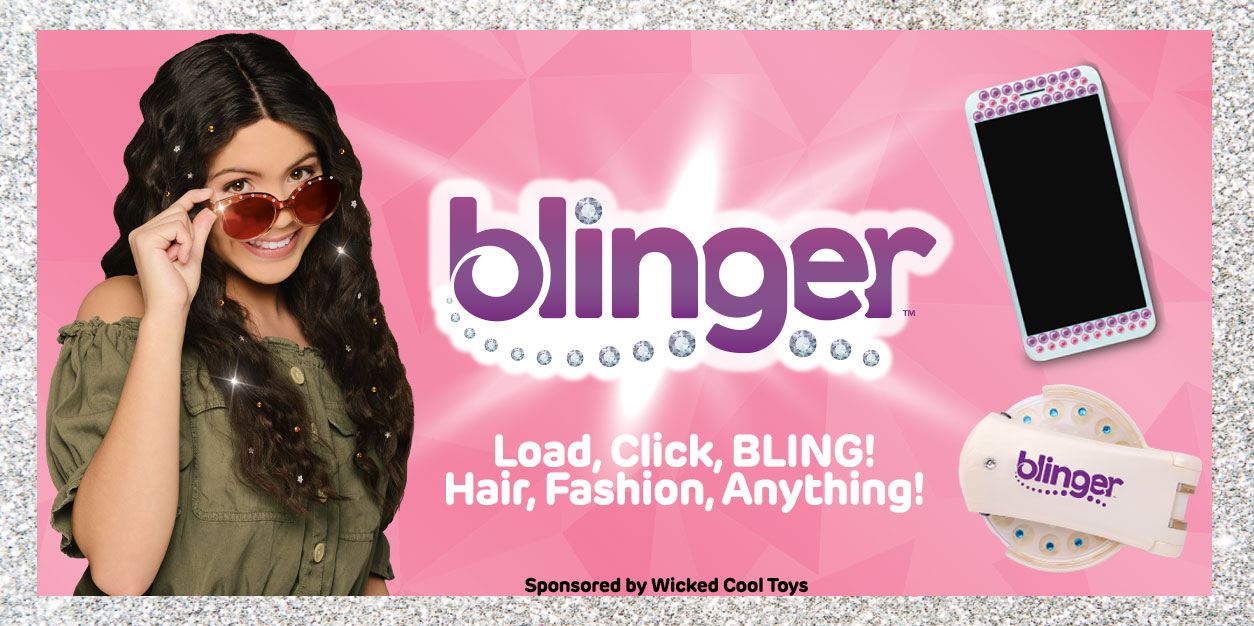 Get Your Sparkle on With Blinger + GIVEAWAY!
NOTE: This post is sponsored by Wicked Cool Toys. All opinions are our own; we were under no obligation to give a positive review. Blinger Giveaway prizes provided by Wicked Cool Toys.
Blinger is a new glam styling tool helps you channel your inner fashionista and love of all things sparkly! Load, click, bling – hair, fashion, ANYTHING!
Wicked Cool Toys was kind enough to send us a Blinger to try out, and we're totally obsessed! The device is simple to use and totally safe, meaning you can pop these adhesive gems on pretty much anything. Dazzle up your updo for the homecoming dance, bling out your notebook for the new school year, or even add some sparkle to your phone case. The gems will stick to almost any surface, so the only limit is your imagination!
We've loved adding sparkle to pretty much anything we could get our hands on. That's why we put together a list of ideas to inspire your Blinger creations. Plus – we teamed up with Wicked Cool Toys to give YOU a chance to WIN your very own Blinger!
5 Creative Ways to Get Your Bling on With Blinger: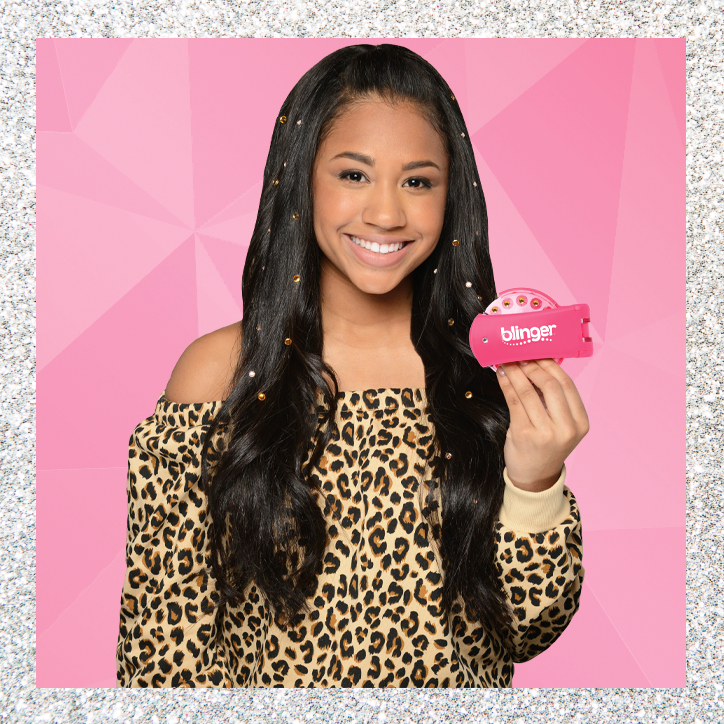 Bling Your Hair:
Bling in and brush out! Adding bling to your hair is super easy and is a great way to add sparkle to your look. Just grab a strand of hair, press down on the Blinger, and voila!
Whether you add bling to your braids to up your style game or just a few strategically placed gems in your curls, you'll look completely fabulous! Bling out your hair for every occasion from your dance recital to your besties birthday party. The best part? When you get home the gems can be brushed out with ease.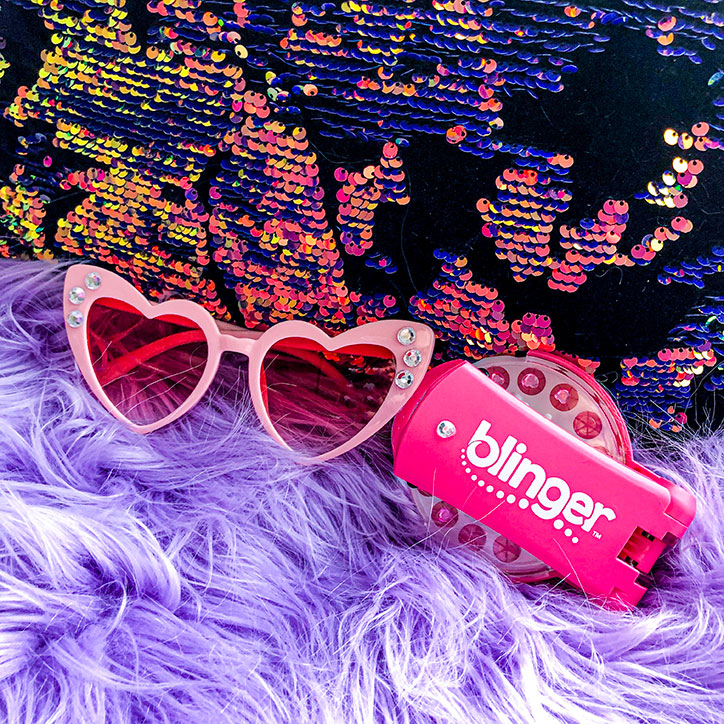 Sparkle Your Sunnies:
Your shades are already adorable, but what if they could shine as bright as the sun? Since a girl can never have too much sparkle, we chose to add a simple array of gems to the edges of our sunglasses.
For added effect, try using your Blinger to make patterns on the lenses, spice up the arms, or any other ideas you may have. Make a mistake? Don't fret! Just peel off the gem re-place it with your fingers to fix up your perfect design.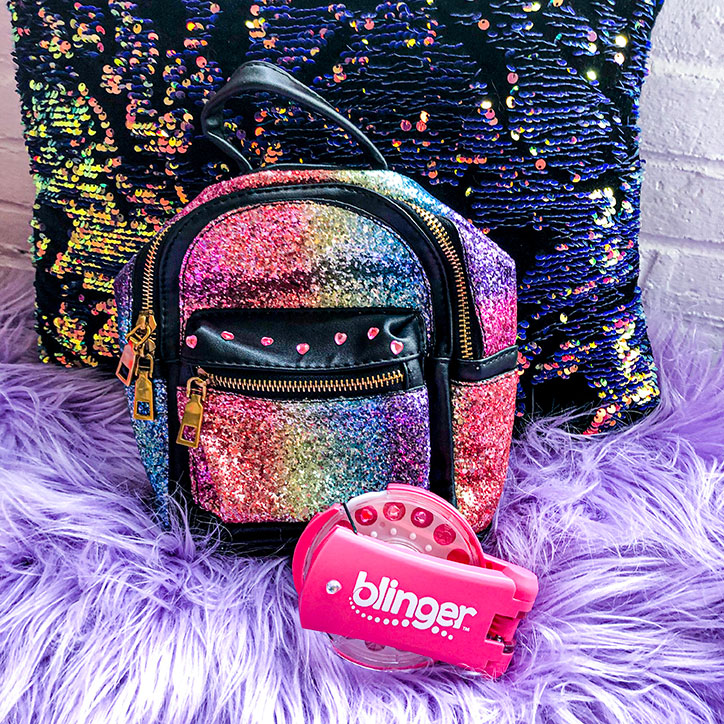 Bling Your Backpack:
Whether you're headed back to school or just want to add a little bling to your purse, you can use Blinger to add a pop of sparkle to your bag. We used the pink heart gems to create a simple, yet striking effect on our already sparkly mini backpack.
We think creating hearts, stars, or spiral patterns would be an amazing choice as well. The thing we think you'll love most about Blinger is using it to express your unique personality!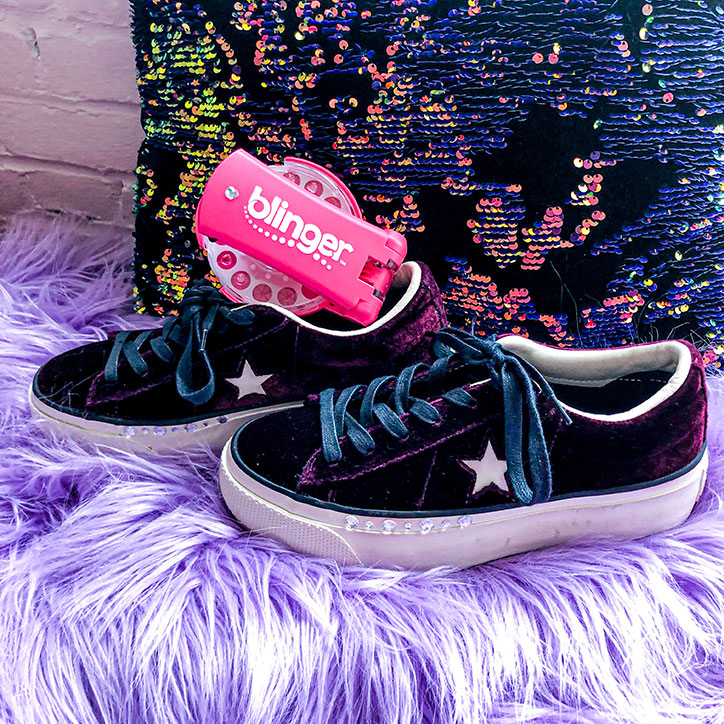 Add Shimmer to Your Sneaks:
Walking the halls at school will feel like you're walking the runway when you've got Blinger on your side!
We were inspired by one of Blinger's Instagram posts to try out the styling tool on our shoes. Since they used it to glam up the front of their sneakers, we chose to add a little bit of bling along the sides. Try blinging out your flip flops for a boost of sparkle at the beach. A little bit of bling goes a long way!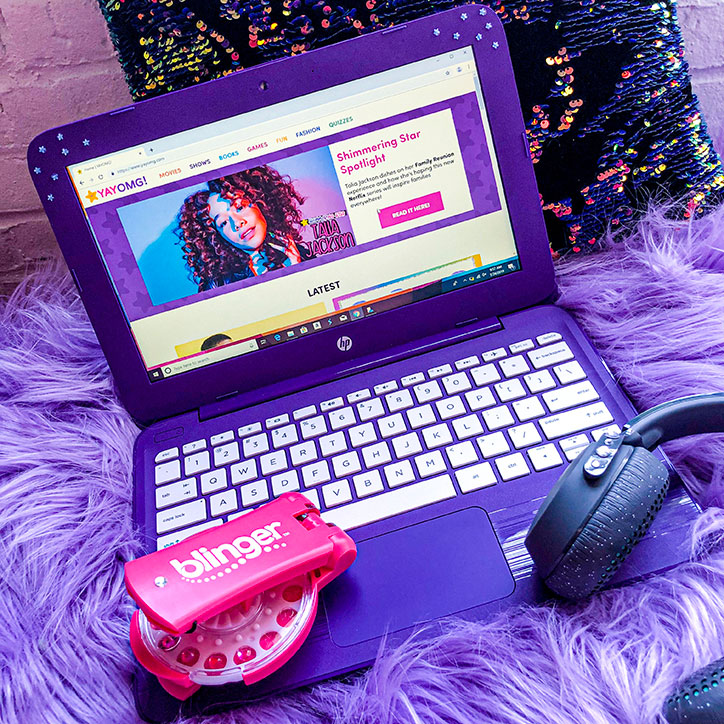 Dazzle Up Your Devices:
Since Blinger works on most materials, you can even use it to add shimmer and sparkle to your phone, headphones, and even your laptop! DIY your dream phone case with lots of rhinestones or add some decorative twinkle to your tablet.
Ready to embrace your inner fashionista with Blinger? Enter below for your chance to WIN!
Blinger Giveaway: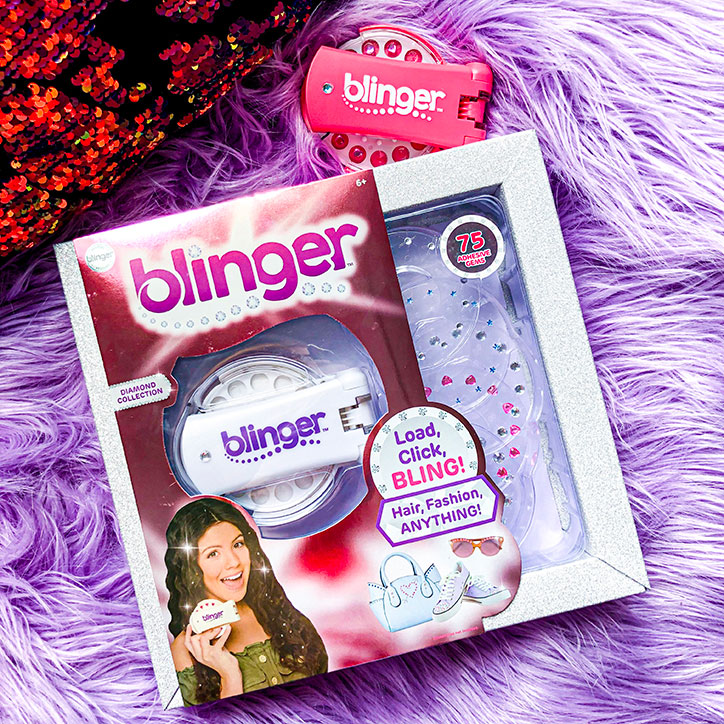 WHAT DO I WIN?:
THREE (3) lucky winners will receive a Blinger Diamond Collection set, generously provided by Wicked Cool Toys.
*Blinger comes in three colors – pink, white, and blue. We cannot guarantee which color you will receive.
HOW DO I ENTER?:
Grab a parent or guardian and have them fill out the form below by August 18, 2019 at 11:59pm ET.
Giveaway runs from 08/02/19 at 06:00 pm ET through 08/18/19 at 11:59 pm. Open to US residents ONLY. Be sure to read the fully detailed rules HERE before entering.
THIS GIVEAWAY HAS ENDED AND THE WINNERS HAVE BEEN CONTACTED.
You must be 18 or older to enter. Please, only ONE entry per person. If selected as a winner, we will provide your parent/guardian with an affidavit to confirm that you are a valid winner who has permission to win. They will be REQUIRED to sign and return the affidavit to YAYOMG! to claim your prize. Prizes will not be mailed out without signed parental consent.
Want a Blinger of your own? The Blinger Diamond Collection sets and Blinger Refill Packs are now available at all major retailers! For more info, check out the Blinger website.